Sampling of Driving Laws in Hawaii
Below are a few driving laws enacted in Hawaii. They are by no means complete. If you have questions regarding legal Hawaiian driving procedures, please ask the staff at the rental desk when you pick up your island rental car. Their information will be the most up to date on recently enacted driving laws. They are happy to share their knowledge with you. State motor vehicle laws are often displayed on rental office walls, but will not necessarily be found in the rental vehicle itself.
Cell Phone Operation in the Islands
Currently, a driver's use of, and texting on, all hand-held cell phones are banned in Hawaii. New, even more stringent, legislation is in the works that could make hands-free phone operation also illegal in some areas. To be current with Hawaiian cell phone usage while driving your rental vehicle, be sure to ask the staff what is permissible when you pick up your rental car. Laws vary from island to island as there is no single, statewide ordinance in place.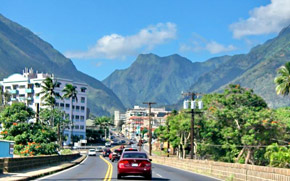 More on Electronics
For Oahu drivers, the above law also applies to iPods, cameras, and any other electronic handheld device.
Children's Car and Booster Seat Regulations
All babies and children below the age of four must be secured in a Federally-approved child safety seat. You can bring your own, or reserve one through us when you request a rental quote. These are on a first-come basis, so book early if you need to add a baby-seat to your rental requirements.
Further, Hawaii requires that children aged 4 through 7 ride in a booster seat when traveling in a motor vehicle. One exemption is for a child taller than 4'9". Booster seats are also rented through us on a first-come basis. They are available at most island airport locations. Be sure to request your booster seat when you ask for a rental car quote.
High Occupancy/Commuter Lanes
You may see other drivers with few passengers (or none) using high occupancy lanes when a traffic accident has closed down the regular lanes. This is legal in Hawaii.
Seat Belts
Seat belts are the law. Make sure everyone is buckled in. Fines are reported to be expensive.
Slow Down
Think "island time". Traffic can become dangerous for drivers, passengers and pedestrians when congested, so police look for impatient drivers. Call them "speed traps" if you must, but also know the traps are here, so pay attention to speed limits.