Lihue Airport (LIH)
Airport: LIH - LIHUE
Hours: 6:00 AM to 9:30 PM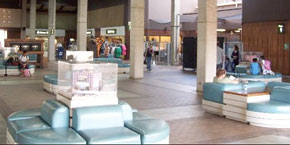 The Lihue (LIH) Airport is a short, 1-1/2 miles east of the town of Lihue. Lihue is located on the east-side of the island of Kauai and is a convenient airport location no matter where you've booked your lodgings.
Rental car booths are just across the street from Baggage Claim. A shuttle that stops behind the booths will take you the short distance to your vehicle.
Don't worry if your flight comes in after 9:30 PM. The airport operates until the final flight from the mainland arrives each evening. Our rental car locations are also open for at least an hour after the last flight of the day.
View our discount rates for vehicle rentals in Kauai.
View Larger Map